Happy Father's Day, everyone! Last year, I did a list of my top 5 favorite Nickelodeon dads which you can check out right
here
. This time around, we're going to be tackling the worst. These are the men who are horrible people who either don't care about their kids, are incompetent of being a responsible adult, or has had a terrible personality that reflects on their kids being awful people themselves. Which of these dads are the equivalent of a tacky necktie or a pair of socks? Let's see and find out.
5. Drew Pickles from
Rugrats
While he's not as a horrible parent as the dads who will later be on this list, but he partially is responsible for one of the biggest spoiled brats in animation history, Angelica Pickles. While Drew has a more stable job and is more responsible than Stu, Stu actually spends time with his kids and has raised them in a much better setting. Drew, on the other hand, overcompensates his lack of time of spending quality time with Angelica due to his job to give her anything she desires to showcase his love. This has had caused Angelica to be incredibly spoiled thinking that she needs to treated like a princess all the time. While Charlotte, Angelica's mother, can also be blamed for the way Angelica is now due to spending more time on her cell phone with her assistant Jonathan, Drew's treatment to Angelica doesn't exactly help. In fact, he makes it worse.
4. Big Bob Pataki from
Hey Arnold!
Big Bob Pataki is not only a terrible father, but he's a terrible man overall. He's a very loud, bad tempered, and unlikable blowhard who does whatever he can to make his beeper store a success. At home, he isn't that great either. He verbally abuses Miriam and completely ignores Helga. Due to Big Bob and Miriam completely giving all their love to Olga, Helga turns out to be the black sheep of the family that no one respects. With that said, Helga has the same personality as Big Bob being a huge bully at P.S.118. She pushes people around, calls insulting names, and has a nasty temper towards most of the people she knows, even her best friend Phoebe. With that said, Big Bob may win awards for his beepers, but he will not win awards for being Father of the Year.
3. Eugene Krabs from
SpongeBob SquarePants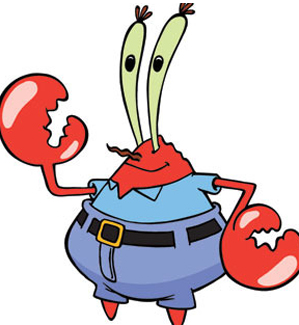 Okay, now we're dealing with the really bad territory. I have absolutely no idea where to start with how Mr. Krabs treats his daughter Pearl. We all know that Mr. Krabs is a money obsessed cheapskate, but he even would put all his love on money than Pearl. That is inexcusable. There have been numerous episodes in which he was too greedy to give even a dollar to Pearl so she can go shopping. The worst one was in the episode " A Whale of a Birthday" in which Mr. Krabs was too cheap to spend on anything for Pearl's birthday from serving dish water as a beverage to having the cake made out of cardboard with frosting. In short, I'm surprised that he's able to continue being a dad with everything that he's done.
2. Walter Nichols from
Drake & Josh
I've stated this numerous times and I'll state it again: I HATE HATE HATE HATE HATE this guy! I mean, just wow! He might be one of, if not, the worst Nickelodeon teen sitcom dad ever constructed. Everything about him sucks. He's a coward, he's an idiot, he's obnoxious, and he's absolutely worthless. Everytime he's on screen trying to be a parent, he runs away scared or gives off some of the worst advice to Josh making situations worse than they were before. Drake and Megan don't even call him "Dad" in the later seasons, but instead call him Walter always taking advantage of him. While that seems cruel, Walter doesn't deserve to be respected. Nothing that he's done in
Drake & Josh
warrants him any treatment of respect. In fact, all the other dads on this list has done things that are more fatherly than what Walter does, except for #1. Overall, Walter is a useless parent that guarantees him at the top of this list.
1. Fire Lord Ozai from
Avatar: The Last Airbender
Call it predictable, I know. But I'm serious, if you recall from my top 10 worst Nickelodeon role models, you know what a terrible man Fire Lord Ozai is. However, he's even worse as a parent. Just like Big Bob, he cared only for his daughter Azula since he was born with talent and completely ignored Zuko. Also like Big Bob, his personality and influences shaped the personality of Azula turning her into the person that she is. He challenged Zuko to an agni kai. When Zuko refused to fight Ozai, he burned half his face and afterwards banished him to do a nearly impossible task that he, his father, and his grandfather couldn't accomplish, capturing the Avatar. He's sadistic, ruthless, selfish, and overall a horrible parent that deserves this spot at #1.
Which Nickelodeon do you despise? Post down in the comments below. Hope to see you around Old School Lane soon. Have a happy father's day.
-Patricia