Hey everyone. Long time, no see. It's been a while since I've done a movie review or any review for that matter. I've been really busy for the past couple of weeks. My sister has finally graduated from college with a B.S. in Psychology, my cousin has graduated from high school, and another cousin has graduated from middle school. We've been celebrating like crazy with graduation parties, going out to eat, and watching a lot of movies in the theaters. Some good, some bad. The first one that we saw was
The Pirates! Band of Misfits.
At first, I was skeptical of doing a review on it after I finished seeing it. But then, when I saw that everyone else was talking about
The Avengers,
I decided that maybe it wasn't too late for me. I did a
First Impressions
on this movie a while back that you can check out if haven't read it yet. Based on the book
The Pirates! In an Adventures with Scientists
by Gideon Defoe, this is a return to the previous classic claymation style of Aardman Animations like the
Wallace and Gromit
series and
Chicken Run.
I was more than excited to see them return to their roots. Is this movie worth its weight in gold or should it walk the plank? Well, me maties, let's dive right into
The Pirates! Band of Misfits.
Story
The story takes place in 1837. We see our main characters, the inept and enthusiastic rag-tag crew of pirates led by the even more inept and enthusiastic Pirate Captain. The annual Pirate of The Year Award ceremony is coming up and Pirate Captain believes he can win. While signing up, he's confronted by the other pirates Cutlass Liz, Peg-Leg Hastings, and Black Bellamy.
Showing off their booty, they asked Pirate Captain what he has done as a pirate. Comparing his adventures to the others, he becomes a laughing stock. Deciding to prove them wrong, Pirate Captain and his crew go on a long journey to capture some treasure from another ship. One of the ships he ends up being in is the
Beagle
where a young Charles Darwin is writing on his journal about his latest discoveries. Disappointed that Charles or the ship didn't have any gold to steal, they decided to walk him off the plank. However, it was stopped when Charles sees Pirate Captain's parrot Polly. He tells them that Polly is a dodo and wishes to bring him to a Scientist Award ceremony in London. The first mate, The Pirate with the Scarf, thinks that it it's a terrible idea since Queen Victoria hates pirates and would execute them if they're captured. But Pirate Captain agrees when Charles promises him untold riches.
In London, they disguise themselves as scientists to enter the Scientist Award ceremony. They win the award when they show Polly to the other scientists and receive...a tiny trophy, a set of encyclopedias, and a greeting with Queen Victoria. Uh oh!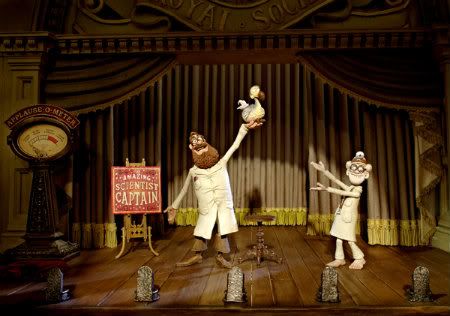 When Queen Victoria found out that Pirate Captain was a pirate, she decided to execute him, but pardons him when she finds out about Polly. She confronts Pirate Captain about exchanging Polly for her to keep in the London Zoo for a huge amount of gold and treasures. He agrees! He tells a white lie on how he got the treasure and ends up winning the Pirate of The Year award and gains a huge amount of respect with the rest of the pirates.
However, Black Bellamy announces to all the pirates that Pirate Captain was pardoned by Queen Victoria and technically doesn't make him a pirate anymore. He's stripped of his award, his pirating license, and his treasure. It turns for the worse when the crew discovers that he traded Polly for the treasure and they abandon him. Meanwhile Charles Darwin confronts Pirate Captain that Queen Victoria isn't using Polly as a display at the London Zoo. She's planning to eat her with a club of rare animal eaters. They steal back Polly, but then get caught and confronted by Queen Victoria.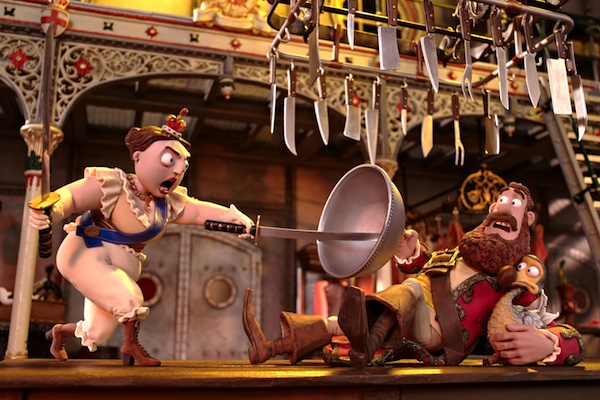 They finally escape and rescued Polly from harm. Queen Victoria, furious that Polly had been taking by the pirates, offers a huge reward for the capture of Pirate Captain. This makes Pirate Captain proud that he has a much more bigger bounty reward than before. The movie ends with them dropping off Charles Darwin at Galapagos Island and going on a new adventure.
Animation
The animation is claymation mixed with CGI and it looks gorgeous! It has the classic Aardman Animation touch all over it with the facial features and the atmospheric feel of the different settings. Even after all the technological advancements that we've had over the years, stop motion animation and claymation is still done the same way with each movement taking 24 frames per second. You can see how hard they worked on making this movie with the pirates swinging from ship to ship, sword fights, the cannon attacks, and more. It was like a breath of fresh air to see something an animated movie that isn't CGI. It's something that I really appreciate when someone is dedicating a long time of making a movie like this and I wish that we have more movies like this.
Overall, it has the same charm, wit, and clever humor that older Aardman Animation movies have been known for. There are plenty of jokes that clearly show that this wasn't intenionally for children, but it will get passed their heads. I'm well aware that this movie is currently overlooked due to the success of
The Avengers
, but trust me, if you are a fan of Aardman Animations' previous movies, claymation, and their sense of humor, I cannot recommend it enough. It's definitely one of the best animated movies of this year. This is a great comeback for Aardman Animations' claymation work and I hope that we see more in the future.
Well, that's it for today. Tune in next time as I take a look at Tim Burton's
Dark Shadows.
Also stay tuned for a special announcement that involves with James (Manic Expression) and the Podcast Players. Hope to see you around Old School Lane soon. Thanks for reading.
-Patricia