Hey guys, welcome to another installment of
First Impressions.
Yes, I know, it's been a while since I've done one of these things. But I needed to write this down.
I have recently seen the Disney movie Wreck-It-Ralph. What did I think of it? It was AMAZING!! I mean it, it is one of Disney's best movies I've seen in recent years. The concept was an amazing love letter to a hardcore video gamer like myself, the characters were all memorable, the voice actors did a fantastic job with their performances, the animation was beautiful, and the references are great. I felt that Disney is really taking note of the work that Pixar is doing with their movies because Wreck-It-Ralph feels like Toy Story mixed with Who Framed Roger Rabbit? with video game characters. I felt like I was watching a Pixar movie with Wreck-It-Ralph and I was seeing a Disney movie with Brave.Even the cartoon short Paperman was incredible! It was brilliant, had fantastic black and white animation, and had a great charm to it. I'm hoping that this short will win for "Best Animated Short" in the Oscars as oppose to La Luna. I like them both, but Paperman blew me away! If you haven't seen Wreck-It-Ralph yet, what are you waiting for? Go see it now!
But we're not here to talk about Wreck-It-Ralph. I'm going to talk to you about one of the trailers I saw for an upcoming animated movie. I've seen movies that I was thrilled to see such as Oz: The Great and Powerful, Rise of the Guardians, and The Hobbit. But then the mediocre and unimpressing movies, in my opinion, showed up like The Smurfs 2, The Croods, Despictable Me 2, and a kid with a dinosaur that I don't really remember. The last trailer I saw before going into Paperman is the movie I'm going to be talking about. It's called Escape from Planet Earth.
The movie is about two brothers from the planet Baab. One of them is a strong and admired space pilot named Scorch Supernova and the other one is the leader of the space station BASA named Gary. When BASA's chief tells Scorch of a dangerous mission involving a dark and dangerous planet, he decides to go there. He lands on the dark and dangerous planet, which happens to be Earth, and gets captured by the men from Area 51 led by a mean general named Shanker. When Gary finds out of Scorch's capture, he, his wife, and son work together to save Scorch and he meets up with some kooky aliens who are locked up in Area 51.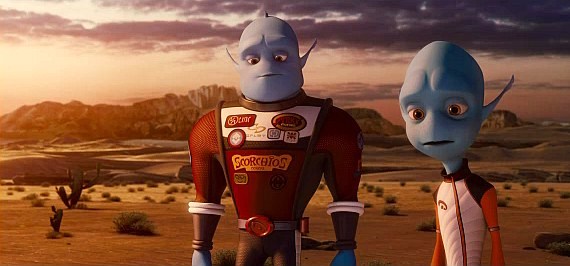 Out of all the trailers I saw, I found this one to be the second most mediocre movie I've seen. The first being that dinosaur movie. It's a bit underwhelming, cliched, dumb, and predictable. I felt that I've seen countless movies like this and I'm not interested in seeing it. It sort of reminds of Planet 51, but in reverse. The man who is directing this movie worked on other movies such as Despicable Me and Horton Hears a Who, so immediately it doesn't sit with me that this is going to be good. There are a lot of good movies for kids that are coming out this year and next year that are going to unique and different and this one will be one of those movies that'll blend in with the crowd as nothing special.
Here's the trailer for your enjoyment. If you are thinking of seeing this movie or you're going to skip it, post it in the comments below.
That's all for now. Hope to see you around Old School Lane soon. Thanks for reading.
-Patricia