Hey everyone, welcome to another installment of
First Impressions
. Today we're going to be talking about a sequel based on a Disney video game on the Nintendo Wii. I'm talking about
Epic Mickey 2: The Power of Two.
To those who haven't played the first
Epic Mickey
, the game is about everyone's favorite Disney cartoon character, Mickey Mouse, venturing in to a place called The Wasteland where forgotten Disney characters and Disneyland attractions would go. After he accidently spills paint over the Wasteland, he creates the Shadow Blot and causes corruption. It's up to him to undo the mistake he did by getting his magic paintbrush with paint and paint thinner and restoring Wasteland to normal. Along the way, he meets up with Oswald the Lucky Rabbit, who is not happy with Mickey for ruining his home and taking away his popularity as the official mascot of Disney. These facts are all true, especially since Oswald the Lucky Rabbit was created by Walt Disney first and was in a streamline of popular Disney shorts before Universal Studios bought the character and Mickey became the new mascot.
The game had some platforming mixed with RPG elements similar to Infamous and makes you travel through levels based on classic Disney cartoon shorts and attractions. It was a fascinating game and I loved it, but had too many flaws to call it a masterpiece. First and foremost, the camera controls were awkward. I could never attack my enemies where I wanted or jump where I wanted to before I plummeted to the ground and died. Also, there was a lack of voice acting that kind of disappointed me. Maybe I was expecting to be like
Kingdom Hearts
, but it was unfortunate that the characters weren't talking in the game. Besides that, it's a great game that has multiple endings, ton of side tasks to do, and a darker, serious storyline for a company known for family friendly characters and fun theme parks that take you back to your childhood. I mean, look at this! Yup, and it's in the official seal of Disney! It's awesome!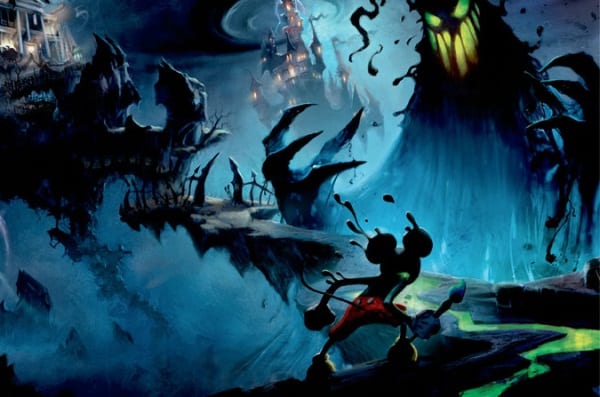 Now when talking about the sequel, it takes Mickey back into the Wasteland where he has to restore peace once again. But this time, he's not alone. Oswald the Lucky Rabbit will be there to help him along this adventure. What's that? There's multiplayer in
Epic Mickey 2
? You bet! According to Warren Spector, he said "It's drop-in, drop-out co-op, you can sit down at any time with a friend who is playing as Mickey, and you can take control of Oswald. If you're playing as a single player, Oswald will be there every second of the game. He's not just a multiplayer character, he's a helper, whether you're playing alone or with a friend or family member."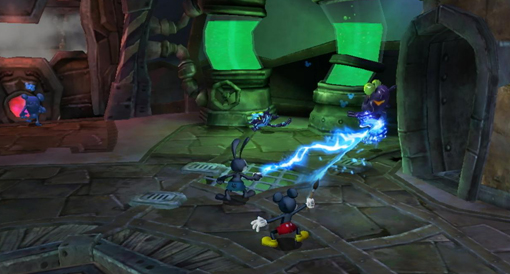 Another thing that has been confirmed is that this game will not only have voice acting, but it will be a musical, which I'm really looking forward to. Some of the most iconic songs from our childhoods came from Disney movies and if they can put in the same effort and Disney magic (no pun intended), this will shape up as a fantastic game. To quote Warren Spector again, he said, "I'm such a geek about musicals, I love the co-op and next-gen stuff, but for me, when a character breaks into song, which they do on a regular basis in this game, it's magic." For some of you getting burned out about too many musicals being out in the media such as
Glee
or
Smash
, this may disappoint you. But as a lover of musicals myself, I am excited!
But sure, multiplayer and music sounds great. But for me, if I can't enjoy the gameplay, then I won't enjoy it as much. Will they fix the problems from the previous game? Yes, they will. As I said, the most common problem of the first
Epic Mickey
was the camera control. Well, they will fix the cameras so that we will have a much more smoother gameplay and better experience. Warren Spector confirmed it as he said, "They'll be working on it until the day we ship the second game. (There have been) over 1,000 specific changes made to the camera. Our goal is that you will not have to touch the manual camera controls even once to play through the main story path of this game."
The game will be coming out this fall for the Wii, Playstation 3, and the XBOX 360. If you are a lover of everything Disney, (I'm looking at you, Moviefan12), then this game is definately for you! If you had fond memories of playing old school Disney video games such as
The Magical Quest
series,
Castle of Illusion
, or the
Kingdom Hearts
series, then you can't miss this. If you had played the first Epic Mickey game, then pre-order this and have a blast going back to your childhoods playing as everyone's favorite cartoon mouse. Who knows, maybe if the game sells well, then Oswald the Lucky Rabbit will soon be having some new cartoons about him. Or even better, become an additional character to meet and greet in the theme parks. If that can happen, that would be so great! After all, Oswald and Mickey are, in a way, half-brothers and having them together would be fantastic!
Here's the trailer of
Epic Mickey 2
for your enjoyment.
That's all for now. Expect a special movie review of
The Hunger Games
soon with Timdiana in his podcast
Something Cinematic
where I will be guest starring talking about our review of this movie. Hope to see you around Old School Lane real soon. Thanks for reading.
-Patricia
P.S. In three days, we will announce our special summer project. Have you guess what it is yet? I'll give you a hint: this afternoon, Kevin and I are going to be talking to a special game show host about his years working for the TV network we're going to be talking about. Guess away!