Hey everyone, welcome back. We're reaching the half way point so let's get to it.
59.
Goof Troop
(1992)
This Disney channel shows us what would Goofy's life would be like if he had a son named Max and if his next door neighbor was the nasty, selfish Pete. Pete even had a wife named Peg, a daugher named Pistol, and a son named P.J. The episodes involving these characters going through some crazy situations are my favorites, especially the ones involving Max and P.J. The movies that takes place years after the show,
A Goofy Movie
and
An Extremely Goofy Movie
are really good. It's also interesting to mention that even after Goofy graduates from college in
An Extremely Goofy Movie
, he works as a waiter in the show
House of Mouse
. I guess life isn't easy for everyone, including a Disney character.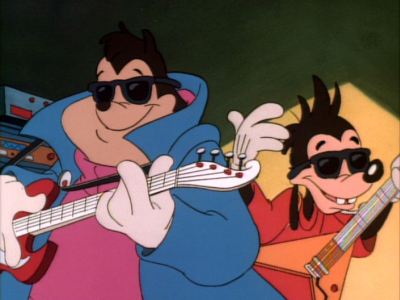 58.
Darkwing Duck
(1991)
This awesome spinoff of
Ducktales
takes us to the adventures of Drake Mallard as the kickass Darkwing Duck. This was the first Disney Afternoon cartoon that emphasized more on action than adventure and it reminded me of a lighter more Howard the Duck-like version of
Batman: The Animated Series
. Jim Cummings does, once again, an excellent job voicing this awesome main character. The addition of Launchpad McQuack from Ducktales and Drake's adopted daughter Gosalyn made this show so hilarious. Let's get dangerous!
57.
Chip and Dale's Rescue Rangers
(1989)
Who would think that two tiny little chipmunks would be great detectives? Any case that you have, big or small, you can be sure that Chip and Dale, along with Monterey Jack, Gadget, and Zipper will be there to help you out as well as taking down the evil Fat Cat and his sidekicks. Not to mention that the theme song is catchy as hell.
56.
My Pet Monster
(1987)
This cartoon based on an awesome toy from the 80's was definitely one not to miss. The story involves Monster living with a boy named Max. Whenever Monster wears his handcuffs, he turns into a stuffed animal. Max's next door neighbor Mr. Hinkle suspects that Max is up to something, but doesn't know what. There's also another monster in the show named Beastur, who wants nothing more but to bring Monster back to their home world. One thing to mention is that the toy is now very rare and very expensive and I had always one, but I never got it. My idiot cousin had one, but he threw it away years ago. I wanted to kill him after I found out what he did.
55.
Josie and the Pussycats
(1970)
After Hanna Barbera released
Scooby-Doo, Where Are You?,
there was so many ripoffs and clones of that show. One that was just as good as
Scooby-Doo
was
Josie and the Pussycats
, which was also created by Hanna Barbera. Based on the
Archie
comic strips, the Pussycats were a band composed of Josie, Valerie, Alan, Alexander, Alexandra, and their cat Sebastian who always end up solving mysteries in every location they go to perform. The songs are very catchy and memorable and the mysteries were always fun to solve along with them. One of my favorite is when they meet up with the cast of
Scooby-Doo
.
54.
Arthur
(1996)
This cartoon based on the books by Marc Brown transitioned very well. The episodes had all the characters from the books and fleshed them out more to unique, lovable, and memorable characters. Arthur is basically the every man, his younger sister D.W. is annoying, yet clever, Buster is the odd one who loves jokes, aliens, and food, Francine is the athletic one, and Binky is the tough, but lovable bully. I'm glad that Arthur was picked as #26 as TV Guide's greatest cartoon characters of all time and PBS is still running episodes to this day.
53.
The Ren and Stimpy Show
(1991)
The Nickelodeon show that started it all in revolutioning mixing in adult humor and jokes to cartoons that we still see to this day. The episodes takes us to the crazy, zany lives of Ren and Stimpy. Billy West did an amazing job voicing both Ren and Stimpy and Jon Kricfausi did a good job voicing Ren during the first few episodes. The supporting cast were great and the guest voice actors such as Phil Hartman, Gilbert Gottfried, Rosie O'Donnell, Frank Zappa, and Mark Hamill were amazing. The memorable moments for me were the Happy Happy Joy Joy song, the Log song, Ask Dr. Stupid, and Powdered Toast Man. This show brought Nickelodeon on the map as the network to see for cartoons and still holds up very well. The MTV version of Ren and Stimpy sucks, don't watch it by all means.
52.
Tom and Jerry
(1940)
What can be said about this cartoon that hasn't been said before?
Tom and Jerry
are fantastic cartoon shorts that deal with the simple premise of a cat and mouse chasing each other and dealing blows with each other with violent action. What made it great still to this day is the violent slapstick humor, everytime I see Tom get hurt and he screams loud with pain, it cracks me up every time. Tom and Jerry Kids, the younger version of the characters, is also a good series if you grew up with it. The movies are crap, especially the first one. Cartoon Network continues to show these shorts still to this day. Why? Because they're still really fun to watch.
51.
Spiderman
(1967 and 1994 versions)
With the new
Spiderman
movie coming out, it got me thinking of all the adaptations of this webslinging hero. What it came to the cartoons, the 1967 and the 1994 animated
Spiderman
cartoons were my favorites, so I'm putting both of them on the list. The 1967 animated series was created by Stan Lee and Steve Ditko and it follows the story very well with the comic books taking place when Peter Parker first got his powers and becomes Spiderman. The voice casting is really good with Paul Soles voicing as Peter Parker/Spiderman. When Ralph Bakshi produced the series around the 2nd and 3rd season, it becomes really nice looking and action packed.
With the popular
Batman: The Animated Series
on air at the time, a lot of cartoons try to take it to the shows to a darker, more serious tone, especially ones based on superheroes. The 1994 Spiderman cartoon was one of them. Created once again by Stan Lee and Steve Ditko, it takes place during Peter's college years and his job at the Daily Bugle. All the classic Spiderman characters are back and more threatening than ever, especially my favorite Spiderman villain Venom. The episodes were packed with adventure, twists, and unexpected turns that made them fun to watch.
50.
Superman/Superman: The Animated Series
(1941) (1996)
Well, once again, there are so many adaptations based on the Man of Steel and I can't choose which one I like the best, so I picked both the 1941 Max Fleischer cartoons and
Superman: The Animated Series
. Although it had only 17 episodes, this cartoon is highly recommended if you're a fan of Superman. The animation was amazing for its time, it has some great action, and the voice acting was pretty good. Great quality from the same guy who animated the
Popeye
cartoons. If they had Superman and Popeye together fighting against Lex Luthor and Bluto, that would have been awesome!
Once again, capitalizing the popularity of
Batman: The Animated Series
, a more modern and serious adaptation of Superman was released in 1996. It takes us to the origins of Superman and the adventures with him fighting against Lex Luthor, Brainiac, Darkseid, and more. Tim Daly does a fantastic job voicing as Superman. Overall, this is another
Superman
cartoon you have to check out.
One time when I was at a comic book store, the owner had the original first issue of
Superman
from 1939 and he let me take a look at it. That moment was one of the greatest moments of my life and I enjoyed every minute of reading it that I wouldn't replace anything in the world with.
We've reached the half way point and we're going to dive in to some really fantastic cartoons as the countdown reaches to #1. Do you have any fond memories of these cartoons? Post it in the comments and let me know. Hope to see you around Old School Lane real soon. Thanks for reading.
-Kevin