Happy Valentine's Day, everyone! Whether you go out to dinner with your significant other or you're home alone eating chocolates, you finish it off seeing a nice romantic movie or TV special. Nickelodeon has had a few Valentine's Day specials and I'm going to list you my top 5 favorites. Here we go!
5. Lovestruck from
The Fairly Oddparents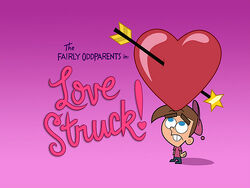 Valentine's Day is drawing near and Timmy wants Trixie to be his Valentine. However, Cupid says that Tootie is his Valentine. Timmy refuses to have Tootie, so he tries to impress Trixie with a huge musical number. Unimpressed, Timmy wishes that the men and women separate into different sections of the town. The men live in a dark, gritty, and dirty part of the town where they refuse to bath and eat what they please and the women live in a neat, bright, and clean part of the town where they clean everything. As time went on, Timmy feels that there's something missing and he works hard along to get the men and women together again. It's a nice episode that teaches a lesson that men and women need each other and the importance of love.
4. Valentine's Day
from
SpongeBob SquarePants

In this episode, SpongeBob gives everyone Valentine's Day cards and has a very special gift for Patrick. However, Sandy, who is delivering the gift, has been distracted due to the flying scallops. When SpongeBob takes Patrick to a Valentine's theme amusement park, Patrick awaits more and more excitedly for his special gift. But when Sandy takes too long, SpongeBob gives Patrick a handshake and Patrick becomes very angry. He almost ruins Valentine's Day for everyone at the park when he destroys the theme park. It's a very unorthodox Valentine's Day special that aired during the show's prime.
3. Arnold's Valentine
in
Hey Arnold
In this episode, it's Valentine's Day and Arnold has a bit of a predicament choosing between going on a date with his long time crush Ruth McDoogal or his French penpal Cecile. Helga hears about Arnold's situation so she pretends to be Cecile so she can spend time with Arnold. This is the first time that we really see more of Ruth and we also learn that her and Arnold have absolutely nothing in common. In fact, Ruth thinks that Arnold was a busboy. Arnold then learns that Ruth wasn't the girl he imagined to be and lost interest in her. When he realized that Cecile finally came to the restaurant to meet with Arnold, he learns that Helga was an impostor. However, he doesn't realize that she was Helga and she never revealed her identity to him. It's a very bittersweet Valentine's Day special that doesn't end romantic in the end. That's a nice change of pace.
2. The Cave of Two Lovers
from
Avatar: The Last Airbender
Yes, yes, I know this isn't really a Valentine's Day special, but the main theme is love so I included it on this list. Due to the Fire Nation constantly catching up with Appa, the gang decides to head over to a cave led by a group of singing hippies that will take them immediately to Omashu. As time went on, the gang were separated with Sokka stuck with the hippies and Aang being with Katara. Aang and Katara learn about the origins of Omashu and slowly start to fall in love. This is the second instinct in which we see Aang and Katara feeling love towards each other and a very important episode to the series.
1. Valentine's Day Massacre
from
The Adventures of Pete & Pete
The pilot episode of
The Adventures of Pete & Pete
back in 1991 is strange, funny, surreal, and charming, which is the series in a nutshell. It's interesting that the pilot episode of the show is about Valentine's Day. It's starts with Big Pete wanting to fulfill his father's dream of being a discus champion. When Big Pete throws the discus, he hits a metal bucket that held the school mascot Edna the squid. Big Pete finds out that he killed Edna and he has to find out how he's going to solve this problem. Big Pete, Little Pete, and Ellen try to work together to bury Edna at the school grounds without the groundskeeper Mr. Beverly knowing. Also Big Pete has a huge crush on the math teacher Miss Fingerwood and he has to compete against the first bully Open Face for her love. In the end, Big Pete realizes that he's never going to have a steady relationship with his teacher with him being 13 and her being 31 and Miss Fingerwood and Mr. Beverly begin dating. It introduces the characters, the themes, and the surreal atmosphere very well and has a very strange way of presenting love. It's a very well done episode that's a great start to one of the best live action series of Nickelodeon.
Those are my top 5 Nickelodeon Valentine's Day specials. What Valentine's Day specials do you like from Nickelodeon? Post it in the comments below. That's all for now. Hope to see you around Old School Lane soon. Happy Valentine's Day, everyone!
-Patricia