After
America Goes Bananaz
went off the air, Nickelodeon knew that they needed a new talk show for kids and teens. They needed to work harder now since
Kids Are People, Too
was already a very popular kids' talk show. So in September 1980,
Livewire
debuted on TV.
Similar to
America Goes Bananaz
and
Kids Are People, Too,
the talk show covered topics and events that were happening at the time and tackling kids' issues. The show was originally hosted by Mark Cordray, but many people found him to be extremely dull and boring. For a talk show to be successful, one of the key elements is the host. If the host was dull, then the show would be depicted as dull. Nickelodeon knew that if
Livewire
was going to be a success, then the host had to be replaced right away. Enter in Fred Newman.
According to an interview by Shannyn Moore from
Moore Up North
, a weekly TV show in Alaska, Fred Newman described how he got his job as the new host of
Livewire
.
" I released a book called
MouthSounds
that I did 100 years ago (1980), left
Newsweek
, and had sort of a Mitt Romney-esque life that I could have aspired to live. The second show I went on was a kids' show, a new show by Nickelodeon. I didn't know better, but you don't fly off a set. That's not what you do on television. This is the second television show I did; the first was
David Letterman
. I did an impression of a house fly. I just stood up on the show and buzzed like a fly and crashed onto a wall. The cameras went off the set and sort of followed me. After the show, they fired the host and asked if I could host the show."
This was a brilliant move done by Nickelodeon. If it was done a bit later, then most likely
Livewire
would have been cancelled rather quickly. Fred was a very fun, interactive, and down-to-earth kind of guy that kids can relate to as well as hang out with. He was infamously known for his quirky sound effects that he would use to his full potential later on in
Doug
. He was just as interested and excited about the celebrity guests as well as the kids were, but kept in in a calm, cool manner. He liked the same things kids liked and that is really important to have that kind of person hosting a show for kids. Still to this day, people who grew up watching
Livewire
had loved Fred Newman and regarded him as one of their childhood heroes. Most people who watched
Livewire
back then don't even remember Mark Cordray and I think that was for the best.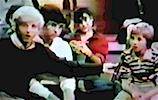 Livewire
also had guest apperances of celebrities who would have interviews with the host. Some of these guests included
Gene Roddenberry
, the creator of
Star Trek
and
Tom Savini
, the legendary special effects and makeup artist known for his work for
Night of the Dead, Dawn of the Dead,
and
Friday the 13th
. Similar to
America Goes Bananaz
where they would have popular bands performing as well as local bands on their show,
Livewire
was credited for up-in-coming bands or unknown bands at the time for their first television appearance. Some of the bands included
Twisted Sister
,
The Lords of the New Church
,
R.E.M.,
and
Manowar
.
In 1982,
Livewire
was the #1 rated show on Nickelodeon and had won a CableACE Award, the first Nickelodeon talk show to ever achieve that. The show was hugely popular by many people and had been on the air for over 5 years, ending its run in 1985. Overall, as I said previously in my review on
America Goes Bananaz
, talk shows for kids and teens were ambitious for its time and this show was truly one of the best. Even today, we don't see a lot of talk shows dedicated to only kids and teens or even any at all.
Livewire
had proven that talk shows for kids can work really well if you do it right: talk about topics that they would get interested in, have fun celebrity guests that kids would want to see, and most importantly, have a host that can be fun, interactive, and relatable. I recommend that you check it out.
That's all for now. Hope to see you around Old School Lane real soon. Take care.
-Patricia